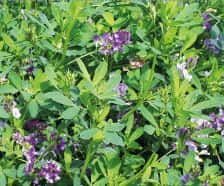 BENEFITS
THE HIGHEST PROTEIN PRODUCTION: A combinaison of high protein content and productivity makes IDYLLE the best producer of protein by ha.
A VERY FAST GROWTH IN SPRING: Ensure a good weed control and therefore increase the value of the forage.
IDENTITY CARD
Latin Name : Medicago sativa
Dormancy : Fall dormancy 4
Registered: FR
CULTURE TIPS
Uses coated seed for better establishment and ensure nitrogen fixing.