Soybean
Since 1975, Lidea soybean research brings better varieties in yield and proteins for each climatic zone in Europe and for each market segment FEED and FOOD. Our numerous research stations and trial locations all over Europe allow us to select the best varieties in yield, proteins but also lodging, diseases and pod opening tolerances for each climatic area.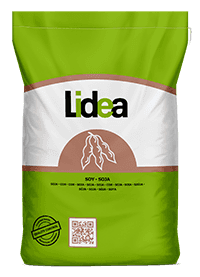 VARIETIES SUITABLE FOR EACH CLIMATIC CONDITION
Here, you can consult full range of Lidea' varieties.
When choosing Lidea soybean range, it's the guarantee to cultivate certified seeds. The use of certified seeds is becoming essential for farmers who want to make profits. In fact, more and more consumers want to eat vegetable proteins. The demand is increasing so it's creating a big increase in soybean surfaces.
But it's not the only reason, nowadays the consumers request animals to be fed with non-GMO  soybean meal. The soybean must be origin-controlled and fully traceable from the farm to the plate.
That's why certified seeds provide many advantages to produce the best soybean:
HIGH QUALITY SEED GUARANTEE 
variety purity (>99%), germination (>80%), allowing maximum soybean emergence and growth to obtain optimum yield. 
STRICT WEED CONTROL
(including invasive weeds such as Cuscuta, Avena, etc.), avoiding the contaminati on of cultivated fields and making weed management easier and cheaper. 
STRICT CONTROL OF THE PRESENCE OF OTHER CROPS TO
 avoid the presence of gluten crop seeds to enable soy food companies to off er non-gluten products; 
avoid the presence of sunfl ower seeds and especially Clearfield resistant seeds that cannot be treated by Pulsar®. 
STRICT CONTROL OF DISEASES 
in seed production (e.g. Diaporthe, mosaic virus, Phytophthora, etc). 
TRACEABILITY
 providing a guarantee for soybean food or feed companies in relation to specific product characteristi cs (e.g., high protein content, grain colour, etc.).
GMO-FREE GUARANTEE
 for the farmer's whole field and the industry. 
PURCHASING CERTIFIED SEEDS
contributes to R&D investment and genetic progress to increase yield, protein content and quality, disease tolerance, etc. This will ensure that soybean remains a sustainable and competitive crop for farmers and industries over the long term.
SOYBEAN CROP ADVANTAGES
LOW INPUTS
Does not require nitrogen thanks to the inoculated rhizobium.
Low need of fungicides and insecti cides. 
STRATEGIC COMPONENTS
PROTEIN: soybean is the crop with the highest quantity of protein/ha in the world. It provides an average protein content of 40-45% of dry matter and all the essential amino acids needed to fulfil human and animal nutritional requirements. 
OIL: around 20%. Soybean is a source of high-quality vegetable oil for human food, animal feed and biodiesel. 
MINOR COMPONENTS: lecithin, tocopherols, saponins, glycerol and phytosterols. Soybean has potenti al benefi ts for human health due to its anti-oxidant effects. 
AN EXCELLENT CROP FOR ROTATION
to leave residual nitrogen in the soil for subsequent crops; 
to break certain weed cycles; 
to limit mycotoxins in cereals; 
to manage certain diseases (e.g. Diabrotica on corn roots). 
AN EXCELLENT CROP FOR ALL USES:
Animal feed, human food, biodiesel, industrial applications, etc. As a result of these qualities, soybean has become a strategic crop to respond to the growing global demand for proteins and make European protein independence possible.