Sorghum
Lidea has the first sorghum research programme in Europe. The varietal results demonstrate the quality of the sorghum genetics adapted to Europe, which is why Lidea genetics represent more than 20% of seeds sown throughout Europe. Our aim is to offer farmers and processors high potential varieties, adapted to all climate conditions and market segments.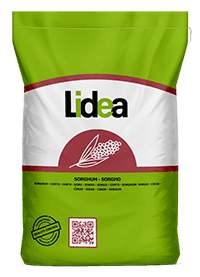 Sorghum is the fifth most cultivated cereal in the world. It is highly popular in Africa and increasingly in Europe where the market is booming. 
Discover the largest sorghum portfolio in Europe
A HIGHLY PROMISING CEREAL FOR ANIMAL FEED
While 60% of wheat, barley and corn in Europe is destined for animal feed, sorghum plays a complementary role: high in protein, with starch to provide energy, unsaturated fatty acids and good tolerance to mycotoxins in the field, it enhances the health and nutritional quality of feed diets. Sorghum offers a safeguard for animal nutrition.
In addition to its nutritional values for human consumption, sorghum is also attractive because of its low cost with lower input requirements, regardless of the intended use of the feed ration: pigs, poultry, layers, dairy cow, pet food, fish and birds. 
Sorghum should not be considered as a substitute cereal, but rather a lever to improve the profitability ratios of industrial feed. 
Beyond its agronomic and ecological qualities, sorghum grain is nutritionally comparable to the other cereal grains in terms of protein, energy, vitamins, minerals, and is a rich source of fibre.
SORGHUM FOR FOOD: AN ASSET FOR HEALTH
Its chemical composition makes it of particularly interest, because the dried grain contains fibre and natural antioxidants. It is gluten-free and can be used in a gluten-free diet. Due to its composition, it is highly digestible and easily assimilated. It also contains important minerals such as iron, calcium and phosphorus. Grain contains vitamins such as niacin (vitamin B6) and vitamin E which give this food high nutritional value. Sorghum is a great energy booster.
Sorghum comes in a variety of forms: flour, whole grain, pasta, milk, flaked, puffed sorghum, sorghum flakes, energy bars, beer and spirits, and many more.
SORGHUM FODDER: MAKING THE RIGHT CHOICE
Depending on the intended use, growing areas and sowing dates of single-cut fodder sorghum, the selection criteria and their importance vary. Factors to be taken into account include: earliness of heading and harvest; energy levels and components; susceptibility to lodging; yield potential and regularity and early vigour.
GROUPE 1 SINGLE-CUT FODDER GRAIN SORGHUM: Medium height, rich in starch, early
GROUPE 2 SINGLE-CUT FODDER SORGHUM: High height, low starch, later
GROUPE 3 SINGLE-CUT FODDER SORGHUM BIOMASS : Industrial uses