Corn
With more than 100 high-performance corn varieties, the comprehensive range offered by Lidea provides the perfect response to the technical and economic challenges faced by growers and livestock farmers worldwide.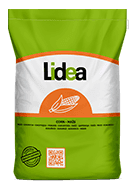 WHICH CORN SEED TO CHOOSE FOR SOWING?
Corn is one of the most efficient and profitable crops in the cereal family. It is a spring grain to be sown in April or May, depending on the soil temperature. This crop is most often used for animal feed (silage and grain), but cultivation for milling purposes (production of corn groats and meal) is becoming increasingly popular. Its main advantages are its low requirements in terms of soil and climate conditions. Corn grows rapidly and is very resistant to thermal stress and water shortages. This does not mean, however, that all corn varieties guarantee high yield and profitability. The choice of corn seed is the most important factor in achieving high yield.
When selecting corn seed, the following factors should be considered: intended outlet; precocity (FAO number); type of grain (flint or dent); agronomic characteristics and soil position. It is also worth checking the yield results published by an independent institution such as Arvalis in France or Coboru in Poland. These bodies publish the results of registration, post-registration and reconnaissance studies of corn crops over many years. Ultimately, the most important factor is the return on investment.
First: grain or silage?
Corn grain (which can be used for bioethanol or corn groats and meal) is grown in Europe, Ukraine and Russia over a much larger area than corn silage (which can be used for biogas). With the exception of dairy farms and biogas outlets, most farmers prefer corn grain varieties or universal varieties. These are generally harvested for grain, but it is also possible to harvest them earlier for silage, which increases the potential outlets. However, it is more difficult to grow plants with very high vegetative development from corn grain seeds, to provide a high biomass. For this reason, breeders and seed producers have prepared varieties of corn intended solely for silage cultivation. They have a typical silage aspect and provide feed with the highest-energy content, ideal for feeding dairy cattle.
Your choice of variety will depend on the type of ration that you want to provide to your livestock and the available areas on your farm.
If farmers have access to very high-quality fodder with high digestibility value, they will choose a corn rich in starch, rather than corn grain, in order to provide maximum energy.
if farmers do not have access to another source of fodder, they will choose a variety providing the best balance between digestibility and energy content.
Second: precocity
The precocity gives you an idea of the date for sowing and harvesting corn.
Precocity is a key factor in selecting corn seed. It is important to consider the early ripening period and the soil conditions in the particular region. The later the corn variety, the longer its growing season.
Early varieties are characterised by the high proportion of cobs in the yield of green and dry matter, but the overall yield is lower. Grain obtained from early varieties has lower humidity during harvest by up to 25-30%compared to the mid-early varieties in the same local conditions.
Medium-early hybrid varieties mature about 10-12 days later and produce a 5-10% higher yield than the early varieties, while the proportion of cobs in the mass intended for silage is lower.
Medium-late varieties mature 23-26 days later than early varieties. They have the highest grain yield (about 15% more than the medium-early varieties), but a slightly lower proportion of cobs in the mass intended for silage.
Third: Flint or Dent?
There are two types of kernels: flint and dent, as well as an intermediate type.
Flint seeds have a round shape with a thick layer of vitreous endosperm. The grain is characterised by its hardness and high density, making it suited to  milling and dairy cattle feed. It was long thought that flint varieties produce corn with good early vigour, that is more tolerant to cold weather. This is no longer the case because the early vigour of a corn plant is more dependent on the characteristics of the corn variety than on the type of seed.
Dent type hybrid varieties are characterised by elongated, flattened and wrinkled grains. In the past it was observed that corn sown from dent seeds was more sensitive to cold temperatures, and initial plant development was somewhat slower. Today, however, as a result of specific varietal characteristics, sowing corn seeds of varieties with good early vigour, such as Tropical Dent, solves this problem. In addition, sowing dent variety seeds guarantees a significantly higher yield potential due to their capacity to produce a large number of grains around the cob. Dent type varieties allow gains in drying costs for farmers because the particular grain shape means that it can dry very quickly in the field. Dent type varieties are recommended for the production of alcohol and starch.
Lidea is one of the few seed producers to offer farmers three types of corn: Flint, Flint-Dent and Dent hybrids.
Check out Lidea's full product range!
Fourth: variety selection and agronomic characteristics
Susceptibility to lodging, health, tolerance to reduced density, adaptation to the region, soil and water abundance are the most important factors to be considered when selecting corn seeds for sowing. When cultivating a plant for silage, a variety with a strong "stay green" effect (green leaves maintained during grain maturation) should be selected. In contrast, for corn grain the health of the grain is the most important consideration. Varieties with high resistance to fungus of the Fusarium genus should be selected. This fungus causes the most common diseases in plants, such as root rot and cob fusariosis.
Fifth: matching the corn variety to the field conditions
Corn is a plant with a great adaptability, but in order to increase yield, specific varieties of corn should be matched to specific locations. Some varieties are better suited to poor conditions, some will produce record yields in normal conditions, while other corn seeds will produce plants with the highest yield potential in favourable conditions.
Based on the findings of research into the different characteristics of the varieties included in the YIELD PROFILE programme, you can choose the variety of corn that will provide the greatest profitability in a given type of soil position. However, beyond the soil class, it is important to consider the general soil and climate conditions in a given field. The yield profiles of each variety are referenced in the product sheets.
Based on several studies exploring the different characteristics of the varieties included in the nutri profile programme, you can choose the variety of corn that will give you the best nutrition profile for your animal feed (fibre digestibility, starch content energy content, etc.) to suit the needs of your cattle. The nutri profiles of each silage variety are referenced in the product sheets.
For detailed recommendations, please contact our sales representatives.
IMPROVE YOUR PERFORMANCE with OUR  SOLUTIONS :
BOOST & GO: sustainable seed protection 
CACTUS LABEL: water efficient corn varieties 
HI CORN: sowing solution suitable for drought conditions
DUO SILO: solution for dairy farms 
TROPICAL DENT®:  unique genetic family with excellent performance